Blutengel
(en
Alemán
:
Ángel de Sangre
) es un grupo
alemán
de
Futurepop
con raíces y
actitud gótica.
Blutengel está conformado por
Chris Pohl
(también integrante de
Terminal Choice
,
Tumor
,
Pain of Progress
,
Miss Construction
, y
waldgeistcomo
proyecto underground) quién formó el grupo luego de haber dejado el dúo
Seelenkrank
. Las letras están en Alemán e Inglés y mezclan voces de ambos sexos.
Luego de que Chris Pohl dejara "Seelenkrank" por problemas legales, el grupo volvió con una nueva compañía y un nuevo nombre: Blutengel. Las letras en un principio estaban escritas en Alemán aunque posteriormente al Inglés, mezclaron voces femeninas con masculinas, junto a sonidos electrónicos. Las letras tratan de amor, tragedia, esperanza y de todos los aspectos de deseo del ser humano.
Las voces femeninas en un comienzo estaban conformadas por Kati Roloff y Nina Bendigkeit. Kati y Nina participaron en el debut de Blutengel con el álbum Child of Glass en 1999. Aunque el debut fue todo un éxito, sólo dos años más tarde grabaron su siguiente disco, Seelenschmerz.
En el 2000, Nina (En ese entonces, la voz femenina del grupo) dejó Blutengel, y Kati se convirtió en la principal voz femenina del grupo. La 2da voz femenina la tomó Gini Martin. "Children of the Night", "Der Spiegel", "Soul of Ice"' entre otras de "Seelenschmerz" tuvieron un éxito impresionante, apareciendo en el Top alemán.
A finales del 2001,Kati y Gini dejan el grupo para comenzar su propio grupo, Tristesse de la Lune. Kati fue reemplazada por Constance Rudert y posteriormente Gini por Eva Pölzing.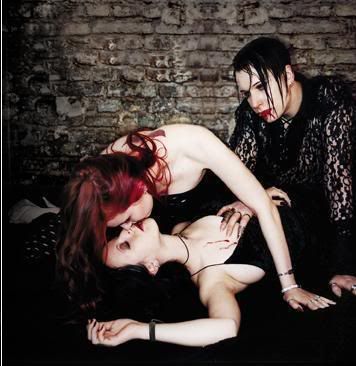 El grupo BlutEngel ha conseguido transformar los escenarios donde actúan en un exquisito baile de salón en donde la mascarada derivará en una ofrenda a la vida a través del sexo, la sangre y el espíritu. Con su renovado dark electro, BlutEngel se ha convertido en otro de los grupos estrella de la escena gótica actual, posición consolidada con obras como "Demon Kiss", en cuya edición limitada nº2 la podemos disfrutar al completo. Dividida en tres CD´s, "Demon Kiss", "Fire" y "Ice", este trabajo se convierte en un exhaustivo recorrido por su particular estilo musical, por su forma de entender las ideas convertidas en composiciones, y por una imaginería gótica estéticamente siniestra surgida en los confines ocultos de la ultratumba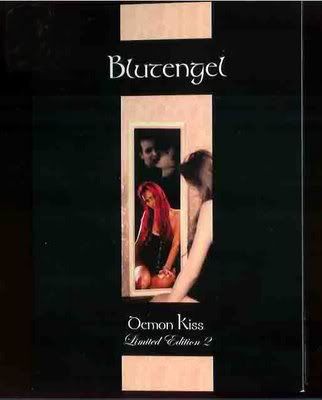 CD 1
Track list:
01 Angels of the dark
02 Forever
03 Silent tears (for you)
04 In the distance
05 Solitary Angel
06 Love Killer
07 Sensless Life
08 Navigator
09 Stay
10 Ice Angel
11 Go to hell?
12 Resurrection
13 Frozen heart
14 In my dreams
15 Verzweiflung
††Descargar††
CD 2
Track list:
01 Demon Kiss (Instrumental)
02 Second Chance
03 Falscher Stolz
04 Ohne Dich
05 Kingdom
††Descargar††
CD 3
Track list:
01 Intro (Konzertintro 2003)
02 Mistress of the Club
03 Forever (Schizophrenia Remix by Buried Alive)
04 Die with You (Akustik)
††Descargar††
Password of acrhive/Contraseña del archivo
http://fascinaciongotica.blogspot.com/
Fecha de lanzamiento:
22 de marzo 2004
Sello discográfico:
Out Of Line (SPV)