Nightwish es un grupo de metal sinfónico procedente de Finlandia, conocidos en todo el mundo por sus fuertes y melódicos riffs de guitarra, atmósferas de órgano y sintetizador, potente batería y claro sonido de bajo que hace un buen contraste con su apoyo filarmónico/orquestal. Nightwish es considerada una de las bandas más representativas de este género.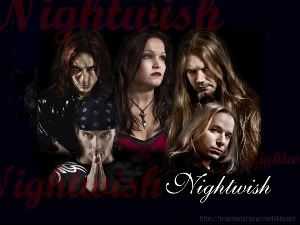 Su género musical es bastante discutido. Cabe señalar que son muy reconocidos por haber brindado una gran diversidad de cualidades de power metal llevándolo a un nivel muy potente, y a la vez combinando al género con gothic metal, algunos toques de folk metal y thrash metal siendo éstos los que ponen a debatir la etimología de su música.
Nightwish, nace en la cabeza de Tuomas Holopainen en 1996 durante una salida de campamento. Más tarde convoca a sus amigos Tarja Turunen (en ese tiempo una novata soprano de la Sibelius-Akatemia en Helsinki) y Emppu Vuorinen, tiempo después llegará a la banda Jukka Nevalainen.
Durante la primera mitad de 1997, firman un contrato con Spinefarm Records y grabaron un demo de 7 canciones, (entre ellas, Nightwish, la cuál después daría su nombre a la banda) las que a la postre formarían parte de Angels Fall First, el primer disco de la banda.
En el segundo semestre de dicho año grabaron otras 4 canciones y publicaron el single titulado "The carpenter", con colaboración de Darkwoods My Betrothed y Children of Bodom, todo un éxito de ventas en Finlandia. Finalmente, a principios de noviembre, sale al mercado Angels Fall First, con idéntico resultado.
A principios de 1998, y en vista de una notoria carencia de bajista estable, se une al grupo Sami Vänskä. Finalmente, a principios de noviembre, sale citado para tocar dicho instrumento en la gira de Angels Fall First, y se comienza la grabación de su segundo trabajo titulado Oceanborn (según los fans el disco más importante del grupo junto con Once) con la colaboración de Tapio Wilska (en las voces de las canciones Devil And The Deep Dark Ocean y The Pharaoh Sails To Orion), siendo éste el primer vocalista invitado en el grupo. Oceanborn alcanzó el puesto número 5 en las listas de Finlandia, y el primer single del álbum, Sacrament of Wilderness fue directamente al número 1, donde estuvo varias semanas.
Banda
Nightwish
Genero
Power Metal
Pais
Finlandia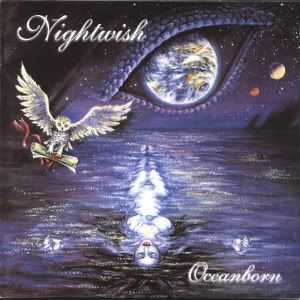 TrackList
1. Stargazers
2. Gethsemane
3. Devil & The Deep Dark Ocean
4. Sacrament Of Wilderness
5. Passion And The Opera
6. Swanheart
7. Moondance
8. The Riddler
9. The Pharaoh Sails To Orion
10. Walking In The Air
11. Sleeping Sun
Password of acrhive/Contraseña del archivo
http://fascinaciongotica.blogspot.com/
††Descargar††