Bueno aqui hablare algo de la banda, la verdad no la conocia pero agradesco a carolina vocalista de la banda por su correo y por su difucion relamente me fascino me encanto de una el grupo tiene un sonido excelente impresionante y sigo agradecienlo por haberme echo conocer su grupo quede impactado .
Bueno aqui los dejare un poco de info y los materiales que son de difusion libre,, pero como saven deben apoyarlos comprando sus discos espero lo hagan por que esto merece apoyo una banda latinoamericana mas aun..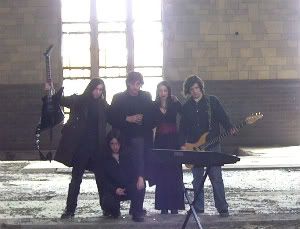 Enchained Souls es una banda de Gothic Metal melódica de Bahía Blanca, Argentina, nacida en los primeros meses del 2004. A mediados del mismo año la banda realiza su primera presentación en un bar local con un exelente marco de público y aceptación del mismo. A partir de esa fecha la banda ha realizado mas de 20 presentaciones en la ciudad y la provincia de Buenos Aires sumando gran cantidad de seguidores y a su vez logrando llegar a pasar las fronteras del país, si bien no con su presencia en fechas, con la difusión de lo que fué su primer disco de estudio llamado Tears Of Silence, lanzado de manera independiente en el año 2006. Durante sus primeros meses la banda ha participado de concursos a nivel local y regional en los cuales ha logrado salir destacada y ganadora entre más de 250 bandas de la zona, obteniendo así un lugar en el Epecuén Rock 2005. Uno de los logros mas importantes de la banda fue el haber compartido escenario con la banda inglesa Anathema en Buenos Aires, Argentina. En el año 2007 sale el demo Symphonic Poems, el cual consta de cinco temas que son un adelanto de lo que sería su segundo disco de estudio. Symphonic Poems logró llegar aún más lejos que su predecesor, Tears Of Silence, logrando dar a conocer a la banda en diferentes partes del mundo, sobre todo en Europa, Rusia y otros países orientales. Para septiembre del 2007 la banda encuentra su formación definitiva, quedando
E
nchained Souls formada por Carolina Villamayor (voces), Pablo Costamagna, (guitarra y voces), Marcos Lacalle (bajo) y Bruno Reggiani (batería)
. Se comienza a grabar el segundo album de estudio de la banda llamado Silentium æternus, una obra conceptual que cuenta con 13 temas que marcaron una diferencia notable en el género de la banda, siendo éstos mucho mas maduros coneptual, compositiva y sonoramente. En el disco pueden apreciarse varios cambios, quizá algunos de los mas fundamentales tienen que ver con el giro hacia el black metal de los temas, lo que transforma a Silentium æternus en una obra mas agresiva.

Enchained Souls - Tears of Silence (2006)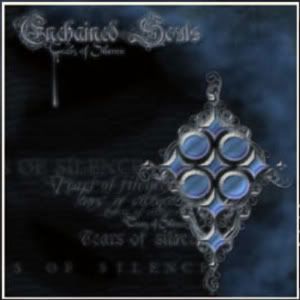 TrackList
01 - Almas Encadenadas
02 - Misfortune
03 - El Velo de la Ilusión
04 - Innocent
05 - Renacer
06 - Torturandome con tus Recuerdos
07 - Change
08 - My Own Requiem
09 - Moon Tears
10 - So Many Years
11 - Sleepless
12 - Slave of Your Wishes
13 - Infected
14 - Manifiesto Revolucionario
15 - Fears From The Dark

Password of acrhive/Contraseña del archivo
http://fascinaciongotica.blogspot.com/
††Descargar††
Enchained Souls - Symphonic Poems [2007]
TrackList
01. Overture
02. Congelando El Tiempo En Paredes
03. Eternal Bloody Romance
04. Mas Alla Del Muro Del Sueño
05. Incoherent Minds
Password of acrhive/Contraseña del archivo
http://fascinaciongotica.blogspot.com/
††Descargar††
Espero apoyen esto buenisima banda ebcerio...